Held from 4 to 20 September 2014 at Alliance Française de Singapour, Tiga Malam (Three Nights) is a group exhibition showcasing an eclectic body of work by three contemporary Singaporean artists Rosihan Dahim, Sunar Sugiyou and Adi Yadoni. Comprised of paintings on paper; canvas works; video installation; and sculpture, the exhibition's aim to reveal varying degrees of artistic expressions situating within the Southeast Asian context offers an exhilarating impression to its viewers.
Rosihan Dahim's surreal body of work consists of dreamlike paintings, installations and sculptures using symbolic traditional references such as wayang kulit and keris in his paintings; eggs and egg trays in sculptures creating an otherworldly experience within the familiar objects. A graduate from the Nanyang Academy of Fine Arts, his first major solo exhibition was at the National Museum Art Gallery in 1980. Since then, Rosihan has exhibited in numerous exhibitions locally and abroad. He received the High Commendation prize at the Australian Art Award in 1985 and went on to receive the Honourable Mention in the Philip Morris Art Award in 1995 and 1996. More recently, he was named Ocean Artist of the Year in 2010 and awarded second prize in the Voice of the Ocean international art show.
Sunar Sugiyou produces figurative paintings by adopting Javanese traditional figures namely kuda lumping – a horse dance drama; wayang kulit characters; disfigured forms and distorted figures and incorporating modern texts such as "Relak lah bro..." and "Always No One" in his artworks. One may recall the works of Indonesian artist Heri Dono in Sunar Sugiyou's method of creating pleasantly grotesque paintings. He graduated from the St. Patrick's Art Centre (now known as LASALLE College of the Arts) in 1987. His first exhibition was at the Shell Discovery Art Exhibition while he was still a student in 1986. Subsequently he received the High Commendation prizes in the Australian Art Award of 1987 and IBM Art Awards in 1988. Sunar has shown in numerous exhibitions locally and abroad and his works can be found in the National Heritage Board Collection as well as in private collections.
The works of Adi Yadoni though diverse in mediums are similar in style – abstract drawings on paper and sculptures and an epic video installation with the song Tiga Malam on repeat – project a certain out-of-the-ordinary quality in his multi-disciplinary art practice. He studied fine art at LASALLE College of the Arts, Singapore and University Of Western Sydney, Australia. A multi-disciplinary artist, he is adept in various mediums and a recipient of the IBM Art Award and Philip Morris Art Award. His works have graced many exhibition spaces in Singapore, Malaysia, Indonesia, Australia and Europe. One of his renowned projects is the establishment of Kaki 5 Galerie & Café - a space that functions as a platform for aspiring artists and filmmakers to converge and exchange new ideas. As a filmmaker, his work ranges from social drama series for television to info-education programs to music videos. His critically acclaimed documentary film Reflections of the Misunderstood Mat Rockers was the first Singaporean documentary to be selected in the main programme of the 15th Singapore International Film Festival in 2002. The film has travelled to many film festivals in Asia and Europe.
An interview with curator Syed Muhammad Hafiz
Describe the significance of the Indonesian song 'Tiga Malam' by songstress Lilis Suriani and the inspiration for the exhibition and its title.
The song was actually the starting point for the three artists. While they were catching up and mulling over their third collaborative show, Adi was humming the tune and they eventually agreed to use the song title as the title for the exhibition. The song is actually quite popular with the older generation here and in Malaysia and Indonesia of course. I think for Malaysia, Siti Nurhaliza did a cover of the song too so I have no doubt that contributed to its recent popularity too!
How do the art practices of the participating artists complement one another for this show?
Actually their respective artistic practices cannot be more different from each other! However I think what brings them together is the desire to push themselves in their respective practices. Individually they have been participating in other exhibitions and done solos but I think the group dynamics between them, perhaps, brought about a willingness to be more adventurous and a certain cheekiness, I would add… 
What is the current state of contemporary art in Singapore and do artists respond to political and social affairs in Singapore? In other words, what themes and subject matters do Singaporean contemporary artists explore in their works?
I think that's a big question to answer in a few sentences but I shall try. From your question I sense that you're looking at artists / practices from the last few years or so? I think most artists here do respond to political and social affairs. The main difference I guess, in comparison to Malaysia and Indonesia for example, would be the visual language they adopt.
If you mean 'political' in the context of art works featuring political figures or statements, then of course you would not see much of that here. Having said that, I think artists here have been more subtle or nuanced in their approaches to making political or social commentary through their art. There are also artists who are more engaged in the other mediums like photography, performance art, etc. so they might not be as visible as painters. This visibility is of course, in the context of auctions for example, where paintings tend to still dominate market demand.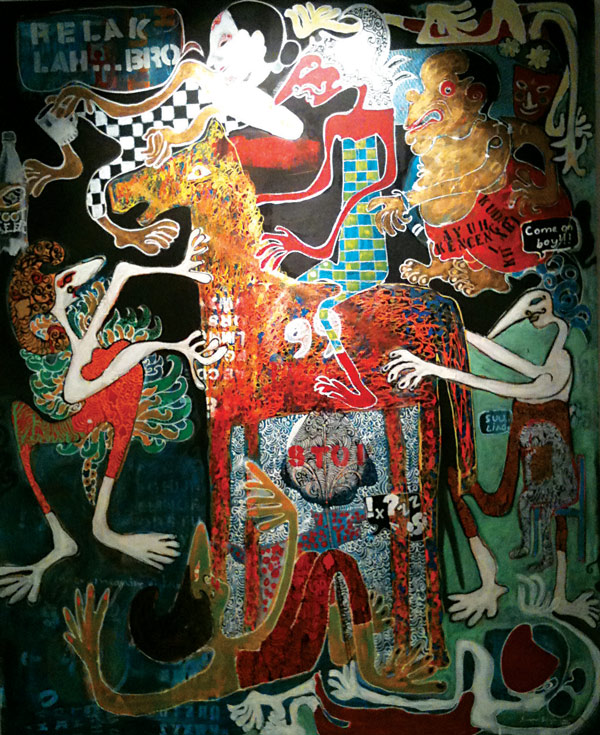 ROSIHAN DAHIM