Henry Butcher Art Auctioneers (HBArt) presented a series of Public Art Programmes in conjunction with a calendar of events namely Nanyang: A Private Selling Exhibition which was held in Singapore (31 July – 3 August) and Kuala Lumpur (6 – 22 August) and A Legacy: An Auction in Celebration of Malaysia Day which was held on 21 September 2014.
Picturing Nanyang: A Romantic Perspective of the Southern Seas?
The objective of this forum was to discuss the history and the works of pioneering artists of Malaysia and Singapore who have forged and claimed an identity of its own. Known as Nanyang or 'Southern Seas', the term was originally coined by literary intelligentsia of the late 1920s to represent contemporary Chinese narratives written based on local subjects of the region.
Held on 16 August 2014, the topic was presented by artist and art writer Kelvin Chuah alongside Emelia Ong Ian Li, art historian and educator. Kelvin Chuah began the seminar by tracing the origins of landscape painting in Malaya particularly by maritime travel artists and adventurers of the East India Company. The practice of watercolour painting in Malaya in the 19th century was advocated by Sir Frank Athelstane Swettenham (1850 – 1946), the first Resident General of the Federated Malay States who illustrated the topography of virgin Malayan lands. Kelvin also provided examples of early activities of immigration in Malaya such as the historical postcard depicting The Chinese Hairdresser circa 1910 and Yong Mun Sen's illustration of A Boy and his Bull, a symbolic piece representing adversity and hard work.  A brief description of Kelvin's current practice was also shared with the audience, documenting artwork images of Nanyang immigrant artists from China which derived mainly from Penang.
PAUL GAUGUIN,
Where Do We Come From? Who Are We? Where Are We Going?
(1897-1898)  
The term Nanyang is known as a regional Chinese diasporic phenomenon in a particular archipelago - Southeast Asia - demonstrating multi-modernities and multi-modernism in their way of life. Nanyang artists of the first generation are described as deriving from the period of the 'Golden Generation of Nanyang Academy of Fine Arts (NAFA). The romantic aspect of Nanyang is parallel to the French Post-Impressionist painter Paul Gauguin's Where Do We Come From? Who Are We? Where Are We Going? (1897-1898), idealising and idolising simple primitive living, away from Western civilisations. Kelvin also played an interview clip by a prolific art historian and collector of Chinese art Michael Sullivan (1916 – 2013) commenting on Cheong Soo Pieng's work. In response to one of the questions discussed concerning the relevance of Nanyang style with modern day context and society, Kelvin brought to light the work of Singaporean contemporary filmmaker Ho Tzu Nyen, who had adopted the work of Cheong Soo Pieng titled Tropical Life (1959) in his short film Episodes of Singapore Art, Episode 1, Cheong Soo Pieng - A Dream of Tropical Life (2005). Such reference manifests the importance of history in present day cultural context.
Emelia Ong commenced her insightful presentation by emphasising that categorising the Nanyang-style as an art movement is not a useful descriptive term as its 'guidelines' are diverse. Though its prominence are observed through the indicators of style namely subject matter, form and meaning which provide a set of solutions composing of local themes corresponding to a particular issue. These artists were faced with artistic challenges – their roots in Chinese style of painting and an inclination towards Western technique – forced them to explore a new meaning. The symbolic incorporation of naturalism in Chinese painting and the Western perspective through their mode of painting offer a refreshing identity.
The notion of Romaticism in Nanyang-style began in Bali – a comparison to the way the Dutch had idealised the noble savage by glorifying the savageness of the natives in the Orient - which is an emotional act rather than rational, static versus progressive. An inspiration from Gauguin who had escaped Western civilisation and materialism to the exotic life in Tahiti in 1891 is debatable, though Chen Wen Hsi, Cheong Soo Pieng, Chee Chong Swee, Liu Kang traveled to the Island of Gods in 1952 in search of a regional visual expressions which Bali has to offer in all its experiential, divine cultural aesthetics and exoticism nature. Another example of a Chinese artist at the time who had devoured the taste of Southeast Asia was Lee Man Fong (1913 – 1988). Emelia concluded her presentation by approaching one of the questions - 'Is Nanyang art a movement of its own? If so, is it comparable to Mooi Indie of Indonesia (c.1930s) and/or the Romantic period (1820 – 1900) of Filipino art?' - by stating that some of the artists were heading that way.
'Is Nanyang art a movement of its own? If so, is it comparable to Mooi Indie of Indonesia (c.1930s) and/or the Romantic period (1820-1900) of Filipino art?'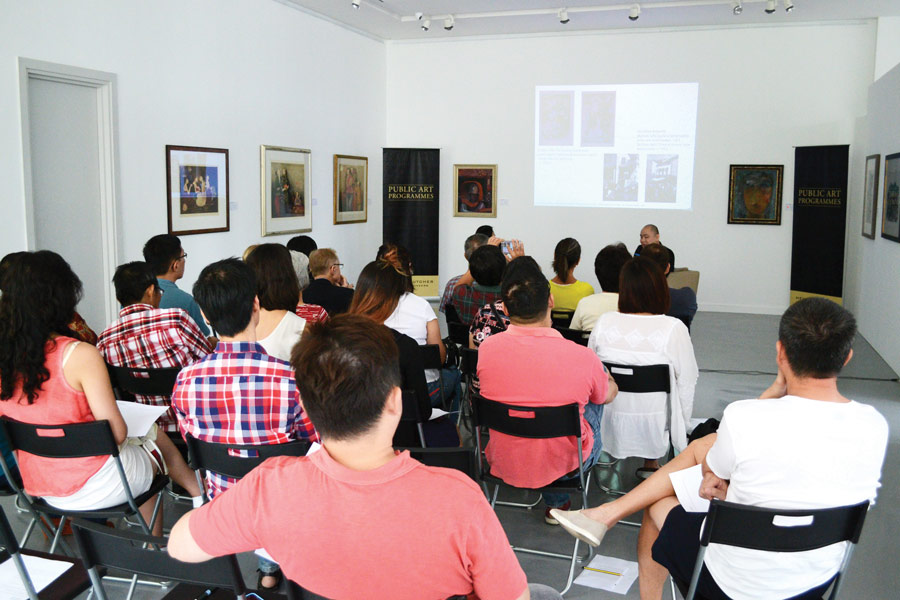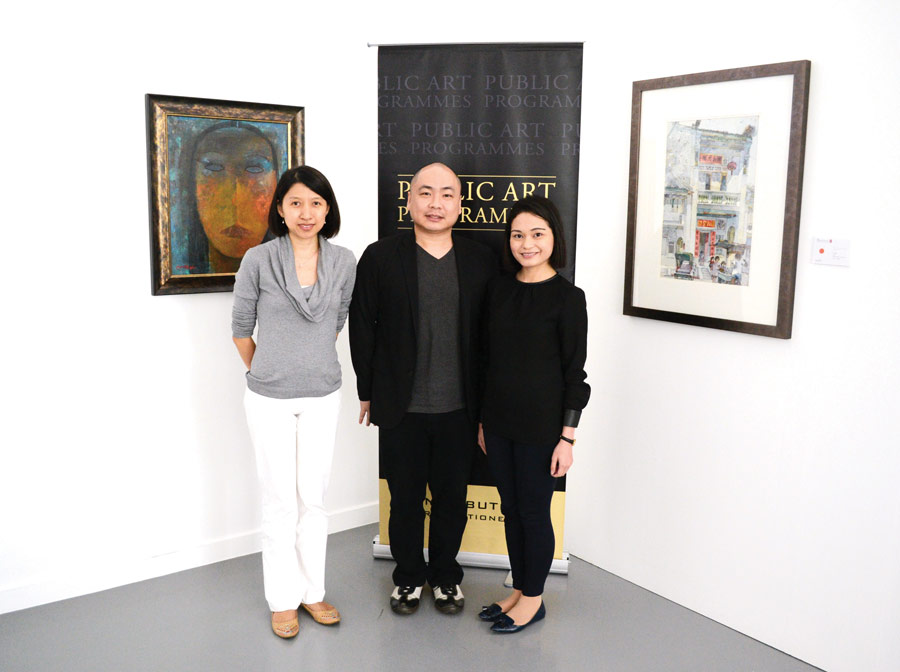 ---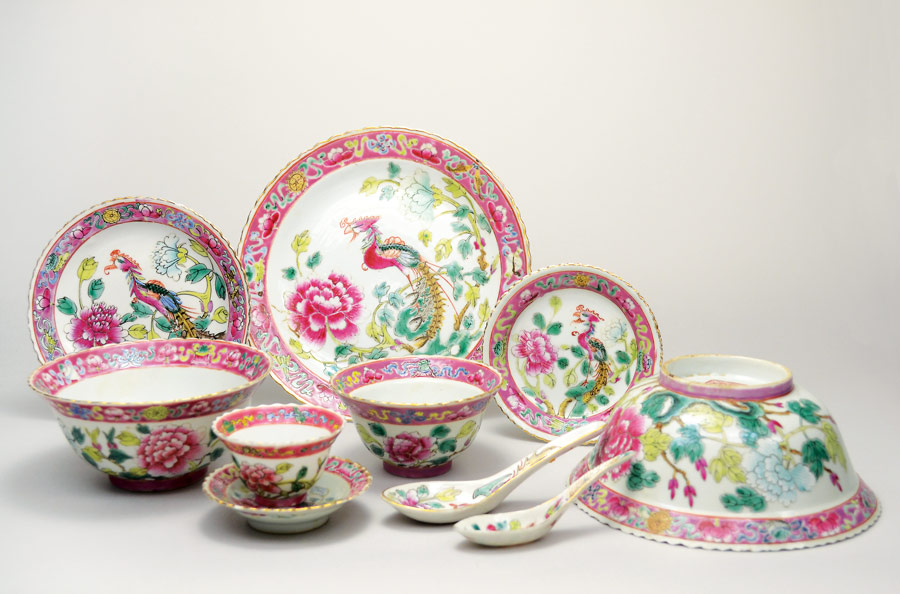 The Pleasures of Collecting Nyonyaware
The iconic Penang Nyonya, Lilian Tong - Museum Director, Pinang Peranakan Mansion & Vice President, Penang Baba Nyonya Association - was invited to speak at a Public Art Programme with the topic The Pleasures of Collecting Nyonyaware.
The objective of this forum was to discuss the history of the Straits Chinese also known as Peranakan or Baba and Nyonya in Penang, Malacca and Singapore and the pleasures of collecting the quintessential Straits Chinese ceramics.
Held on 20 September 2014 in conjunction with A Legacy: An Auction in Celebration of Malaysia Day, which featured a collection of finely enamelled late 19th to early 20th century Straits Chinese ceramics for the very first time on 21 September 2014, the forum was held with an aim to cultivate collectors' passion for Nyonyaware.
The Straits Chinese home is a connoisseurship uniting social history with material culture; an opus of art and beauty that transcends historic, artistic and cultural boundaries, weaving a European, Anglo-India, Arabic, Malay, Asian and Chinese composition.
Lilian Tong transported the audience to the world of Peranakan showcasing the historical wealth of objects used by the unique family households from kitchenware, home ware to attire, architecture and food. At the end of the presentation, guests savoured a delectable array of freshly made Nyonya
kuehs
, multi-coloured sweet delicacies which is the pride of Nyonya cuisine.