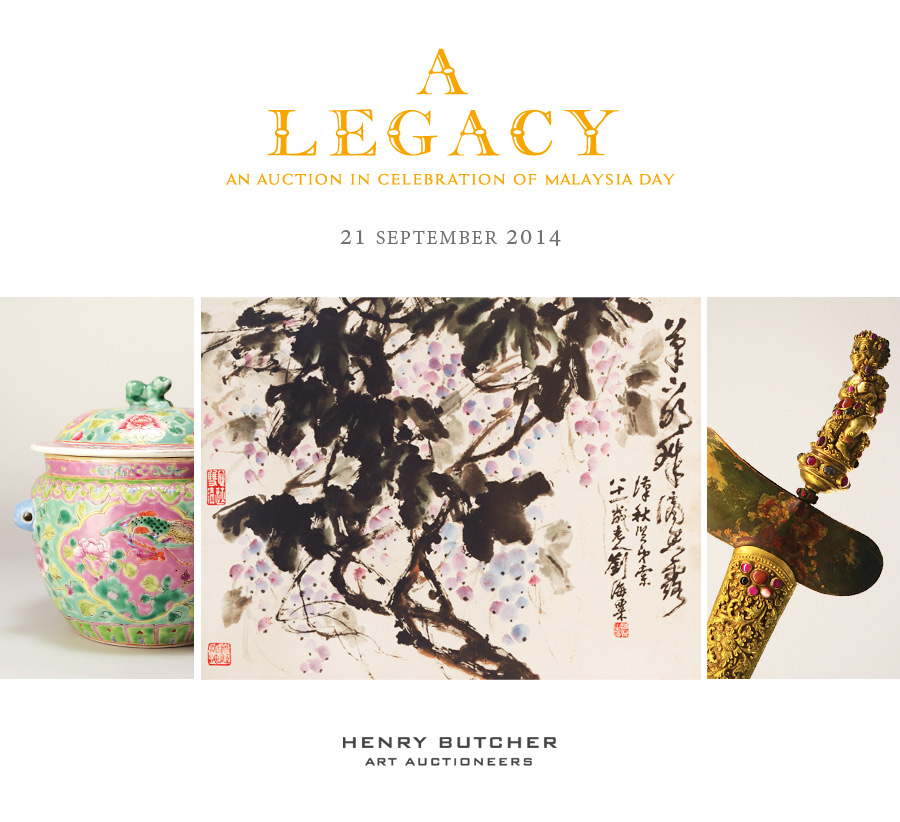 ---

A LEGACY

AN AUCTION IN CELEBRATION OF MALAYSIA DAY


Sun 21 September 2014, 1pm
Sime Darby Convention Centre, Kuala Lumpur
1A Jalan Bukit Kiara 1, 60000 Kuala Lumpur.
Click for location map



SINGAPORE VIEWING
Thurs 4 September - Sun 7 September 2014, 11am - 7pm
artspace @ 222
222 Queen Street #02-03, Singapore 188550.
Click for location map



KUALA LUMPUR VIEWING
Opening Wed 10 September 2014, 8pm
Viewing runs till Sat 20 September 2014, 11am - 7pm daily
Curate
LG1-1, SENI Mont' Kiara, 2a Changkat Duta Kiara, 
Mont' Kiara, 50480 Kuala Lumpur, Malaysia.
Click for location map 


Henry Butcher Art Auctioneers (HBArt) present a special auction in conjunction with Malaysia Day titled A Legacy: An Auction In Celebration of Malaysia Day to be held on Sunday, 21 September 2014 at Sime Darby Convention Centre in Kuala Lumpur. On offer are eclectic arrays of cultural artifacts and artworks ranging from Straits Chinese ceramics and the heritage arms, Keris representing Malay sovereignty from the Nusantara archipelago to paintings in oil and watercolour by Malaysian and Asian artists as well as Chinese ink calligraphy and literati paintings.

On offer at HBArt for the first time are sets of Famille rose pink and white, green and turquoise-ground porcelains from the late 19th to early 20th century adorning Nyonya motifs of phoenix and peony flowers symbolic of nuptial bliss, wealth and honour. An ensemble of Keris which displays the intricacy and expertise of masterful craftsmanship from the 12th to 13th century Modjopahit Java; 15th century (or earlier) Java; 15th century Bali; 14th to 15th century Madura among others - finely handcrafted in a wealth of materials such as ivory; chendana wood; and silver and bronze grit inlaid with precious stones – will also go under the hammer for the very first time providing discerning collectors an opportunity to preserve a part of the region's history.

In the two-dimensional segment, over 140 artworks featuring pioneering Nanyang artists such as Yong Mun Sen; Khaw Sia; Kuo Ju Ping; Tan Choon Ghee; and the sons of Father of Batik Art – Chuah Seow Keng and Chuah Siew Kek inheriting Chuah Thean Teng's legacy - can be found alongside established names like AJ Rahman; Jehan Chan; Hassan Djaafar; Keng Seng Choo; and Lye Yau Fatt as well as underrated talents Johari Alias; Alex Leong; Rohaizat; Wah Peng and more are set to go under the hammer.

Discover the ancient art of Chinese calligraphy and ink painting with themes depicting misty landscape, flower-and-bird, folk art, animals representing prosperity, bamboo trees, blossom flowers and tropical nature are among the subject matters illustrated in ink on rice paper mounted on scroll. Well established Chinese ink painters and calligraphers such as Liu Haisu, Xu Beihong, Zhou Shao'Ang, Liu Taixi, Qi Fang, and Zhao Wenxian to name a few are featured in this collection.