"People don't understand that the hardest thing is to actually do something which is close to nothing." – Marina Abramović
Known as the "grandmother" of performance art – Marina Abramović is a name that usually receives mixed responses because of the controversy surrounding her work. Matthew Akers' documentary film, Marina Abramović: The Artist is Present, on the same entitled retrospective of her work at MoMA in 2010 provides an eye-opening insight into the grueling process behind producing her work, and in turn a better understanding of the under-appreciated genre of performance art itself.
While the film exposes a vast expanse of her life, from her childhood, to her love life and career, the main focus is on the centerpiece of her show where she sat immobile, gazing into the eyes audience members who took turns sitting across from her. The piece took place during opening hours of the museum for three months where she performed for a total of 736 hours. As with all her other works that almost are always about testing the limits of the human capacity physically and mentally, this piece did no less. As Abramović puts it herself: "People don't understand that the hardest thing is to actually do something which is close to nothing."
One thing that is obvious from the film is the subtle but evidently effective confrontational nature of Abramović's work, especially in her works with Ulay, a former partner who we are introduced to as the film captures their reunion. As he explains: inaction, silence, and fasting are highly discredited in Western society and it is these three elements which are central to a piece he did with Abramović in the eighties and are again characteristic in The Artist is Present. By directly presenting audience members with what we try to avoid, she makes us question the reasoning behind these conventions and change the way we respond to social norms.
As Akers catches audience members moved to tears, we learn that by patiently sitting passively but attentively Abramović is giving them a simple but unique opportunity – a moment for each individual to forget about social customs, and an experience that transcends time and everyday life itself. She explains "When they're sitting in the front of me, it's not about me anymore […] I'm just the mirror of their own self." In an age where we are taught to work harder and go higher, she forces us to slow down and to reflect on the bigger picture of our lives – a basic principle that should be our priority but is in fact overlooked and buried under all our other unnecessary worries. The piece is a prime example of how simple in nature, yet deeply emotionally effective performance art is in creating an intimate connection between the artist and the audience member, in some cases more so than traditionally accepted forms of art.
Even though performance art has been well established and recognized since the 1960s, there is an air of skepticism that still clouds the genre to the general audience, especially with works that are more radical, like Abramović's. As a hub of a diverse range of cultures, South East Asia boasts an extensive variety of performing arts in the form of dance, theatre, music, and even shadow puppetry, that reflect centuries worth of tradition. Whilst the performing arts have always been prominent, as a region with a much shorter history of fine art it comes as no surprise that performance art is still relatively new and in the stages of development. Although similar in terms of delivery and presentation, there is a clear distinction between performing and performance art in which the latter is a dramatically delivered form of conceptual art that aims to convey a content-based meaning. Performing arts on the other hand, usually has the intended purpose of entertaining an audience.
Because the essence of most contemporary art is to reflect on issues on the current state of life, performance art's even more direct presentation of an artist's response to such concerns makes it difficult to be accepted in some societies where censorship still runs high. This struggle is reflected through Asia Art Archive's interview with Singaporean performance artist, Loo Zihan who spoke of the his gay rights performance Cane, revealing the effects of working with restrictions and regulations that aren't implemented in Western countries.
While performance art is generally more accessible in the West, South East Asia has definitely seen a rise of interest and knowledge of the genre over the past few years with notable pieces by Indonesia's Melati Suryodarmo, Singapore's Loo Zihan, and Jason Lim, just to name a few. Festivals such as Future of Imagination and Malacca International Contemporary Art Festival are also helping to expose the audience to the style of work and will hopefully incur a wider interest and stronger appreciation for the underrated genre.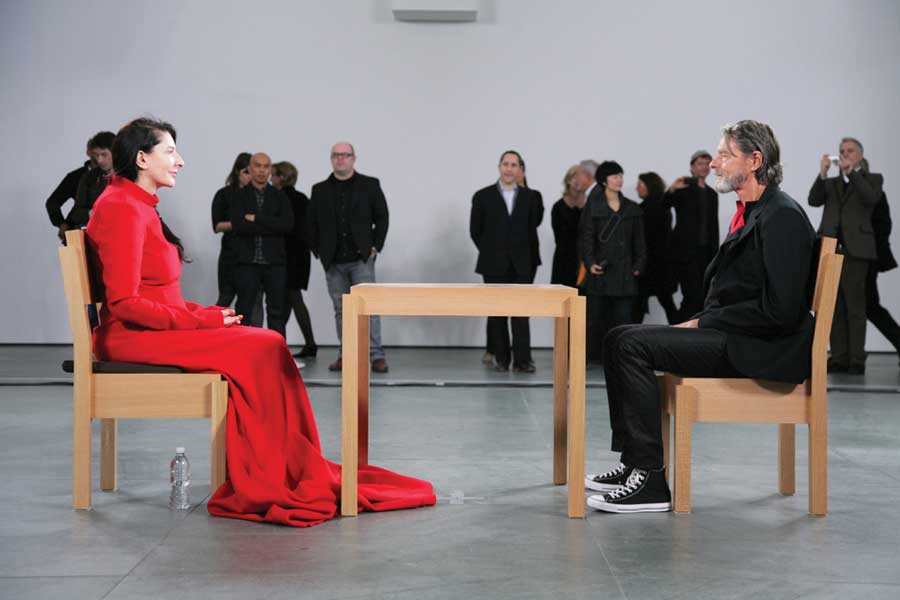 Photo courtesy MoMA The Museum of Modern Art