Do not miss the rare opportunity to catch the highlight of the week person(a), a compelling photography showcase curated and presented by Vignes Balasingam, founder of the Obscura Festival of Photography, and Sharmin Parameswaran, visual arts curator from Interpr8 Art Space.

The exhibition features a stunning selection of works from 20 Malaysian photographers which comprise of art photographs, mixed media and installations exploring the theme of self-portraiture. The works are related to each artist's social and geographical context by utilising symbols and metaphors to form personal narratives, which in turn, reignite memories of identity and nation.

Each portrait transcends its use as a mere representational device. It communicates and entices the viewer to question what lies beyond the image observed. Some works are accompanied by personal texts written by the artist, which add an extra dimension and layer of meaning.

Artists featured include:
Chris Chong Chan Fui, Diana Lui, Hoo Fan Chon, J. Redza, kG Krishnan, Minstrel Kuik, Nadia J. Mahfix, Saubin Yap, Sharon Chin, and Sherman Ong.

 
---
AUM #0 (2015), a reversed photogram by Diana Lui was specially made for this exhibition, and alludes to the beginning of the universe and original self. The work's unique quality evokes a cosmic aura and was made from the artist lying down in the dark room on a light sensitive surface, with lighting exposures.

Hitam Manis (2015), a moving set of portraits made by Nadirah Zakariya ingeniously incorporates small patches of holes which allows light to project through to simulate her experience of a skin condition called vitiligo, where pigment is lost from areas of the skin, which through time the artist has learned to accept the physical state.

Person A (2015), by young collective Specimen X was made using image merge and displayed via photomontage projection. The exciting work was made by the cropping out of the protagonist from photos obtained via his social media account and internet search, and aims to discover the vestiges of our digital selves. The hollow cut outs were merged with digital backdrops from various common known software and cyber landscapes.

Between Lust & Longing (2011-2013) by kG Krishnan shares his memories as a recovering crystal meth addict and displays his collection of visual diaries from his journey of rehabilitation, revealing the inner psyche and strength of the individual.

The Undiscovered Self (2015) by Nadia J. Mahfix's documents her sketches and writings through the years and questions the notions of self-identity versus imposed identity. The collection of personal photos, memoirs and writings were intricately presented in a book.

Nar (kiss) os (2010-2015), by William Sim explores the possibility of looking at his own portrait from the point of himself, the point of the observer, and also through the process of deconstruction, which comes to a surprising conclusion.
 
 
*Saturday November 7: Panel Discussion titled art+photography at 2.00pm, followed by an artist talk at 4.00pm, ending at 6.00pm with a Film Screening & Q&A with Sherman Ong. For more information, please log on www.personaexhibition.com.

MINSTREL KUIK
Hide-and-seek, 2015, 42cm x 30cm x 3cm, Digital laser print on paper, installation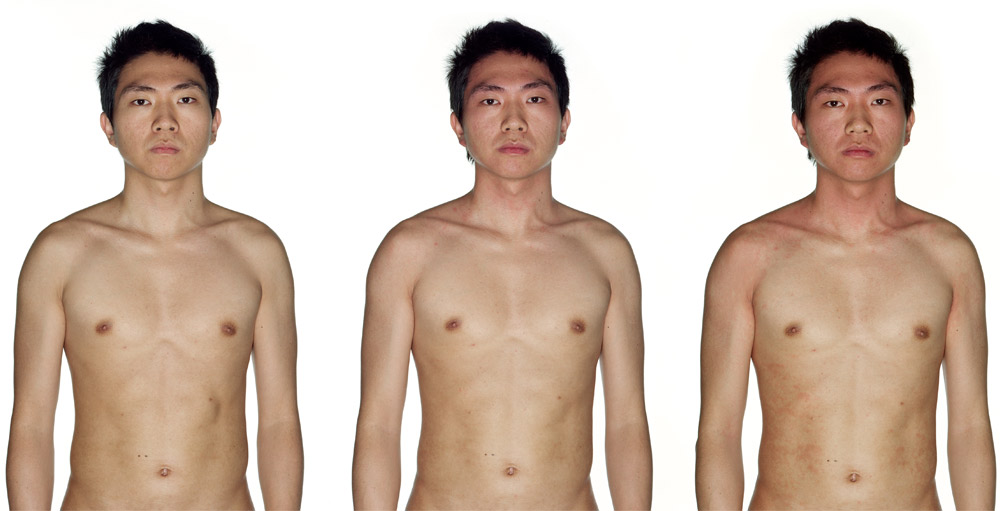 HOO FAN CHON
From Yellow to Red, 2008, 55.9cm x 41.9cm each, C-Print




DIANA LUI
Aum #0, 2015, 122cm x 205cm, Inkjet on fabric, lightbox




Specimen X
Person A, 2015, Various, Photo montage projection