Richard Koh Fine Art Kuala Lumpur
15 – 30 April 2015
A true maker and explorer, Haffendi Anuar seeks solace in creating art objects and paintings, experimenting with basic materials, testing the limits of manufactured things to produce awe-inspiring object of its own. His daily commute by foot to anywhere opens up a delightful vista sighting intriguing scenes often missed by motorists. These urban scenes are tediously expressed and translated in unspoken ways, investing laborious hours and days to produce an epic collection of 65 artworks for his first solo show titled M13.
 
Conforming to a strict thematic approach of standard proportions as guideline, Haffendi utilises tools from masking tape, household items namely melamine tableware, putty and fillers to stretched canvases coated in numerous layers of "standard colours" to produce a series of hallucinogenic symmetrical abstraction works comprising of freestanding pillar sculptures and geometric panelled paintings.
The exhibition invites viewers to experience a web of gridlocked subtracted cityscape, a brilliant retreat to the Constructivism movement, an artistic and architectural philosophy that originated in Russia in 1919 rejecting the idea of autonomous art. At the same time, Haffendi lends his eye as a flâneur to the viewer. The French poet Charles Baudelaire once wrote that in the modern city one becomes a flâneur or stroller. This was an entirely new urban figure in 19th century Europe, associated with the era of modernity. According to Baudelaire, the flâneur moves through the labyrinthine streets and hidden spaces of the city, partaking of its attractions and fearful pleasures, but remaining somehow detached and apart from it. Working with this concept of urban strolling, Haffendi conveys the idyllic philosophy of walking over a century later set in 21st century Southeast Asia.

Haffendi Anuar graduated with BA (HONS) in Sculpture from Central Saint Martins College of Art & Design, London, United Kingdom in 2013 and is no stranger to the contemporary art scene having actively participated in numerous group exhibitions and art fairs locally and abroad since 2005 namely at the Foundation Triennial at Woods-Gerry Gallery, Providence, United States of America (2005); Quick, In the Moment…., Nolia Gallery, London, United Kingdom (2011); Metamorph, Hoxton Garage, London, United Kingdom (2013); Cherry on (Top)less, Topless, New York, United States of America (2014); Malaysia Emerging Artist Award, Whitebox, Publika, Kuala Lumpur (2014); Korea International Art Fair, Seoul, Korea (2014); Art Taipei, Taiwan (2014); and most recently at Art Stage Singapore (2015).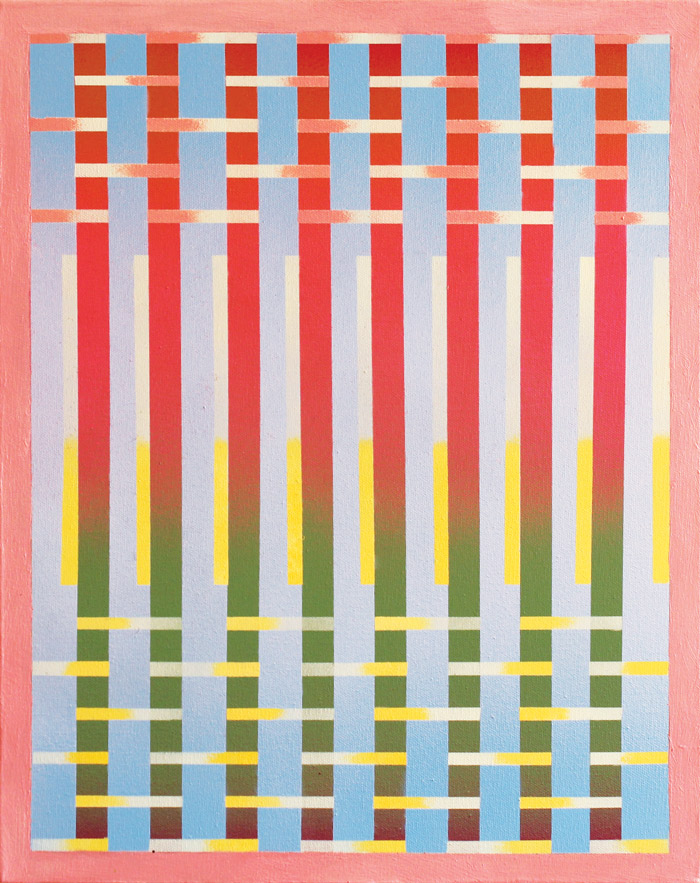 Sunny Side Up, 2014
Oil, acrylic and enamel paint on canvas, 60cm x 40cm
---
AN INTERVIEW WITH HAFFENDI ANUAR


The title of the show M13 is named after your studio. Is there a significance to this name and is it in reference to the globular cluster Messier 13?
Yes, it is named after my studio's flat block M13, it is within a cluster of low-cost housing in Ampang, mass-constructed and they all look the same. Oh no definitely not, but the title is open-ended enough that people tend to read it in many ways.



The impressive body of work consists of four segments: Pilotis, Block Paintings, Grill Works and Windows - 26 pieces of sculptures constructed from melamine tableware and 39 pieces of paintings - in varied dimensions. How did the idea of incorporating elements of architecture into your works come about?
I've always been somewhat interested in architecture, possibly coming from working at an architect's office as a model-maker when I was a lot younger. The architectural elements become an important language in this body of work as I was attempting to reflect on the local immediate environment surrounding my studio, things I see and other than portraying people or the figure, our architecture do say a lot about us and how we live.



On the interesting use of unconventional medium to create fragile sculptures: Is this a representation of the urban condition of the city?
Yes, in a way it does reflect on the nature of our living condition in KL, especially people living in the fringes of society. The Pilotis is a reflection of the ideals of modernism (foundational principals of modern abstract sculpture) by echoing the form of Brancusi's Endless Column, but created to become fragile, painted forms made from materials from the everyday.


Describe the process of creating Pilotis.
The process starts when I frequent thrift shops or made-in-china stores around KL and selects the appropriate bowls, plates, cup and mugs. After selecting the right type of tableware for a form, I would then use epoxy glue to stick them to each other and a steel rod to hold them tight. Then layers of sand, Puttyfilla and cement are coated on the surface before painting 50 – 120 layers of enamel paint. Each layer of paint would take about 4 hours to dry, depending on the weather. Finally I would sand the pieces and glaze them.



Is this your outlook on the great landscape of Kuala Lumpur? Could it be done differently if you were living in another city i.e. London?
Yes, definitely, I find KL to be an amazing city, full of life and potential. And since moving back, I feel it is only responsible of me to reflect on my own immediate environment and make sense of it.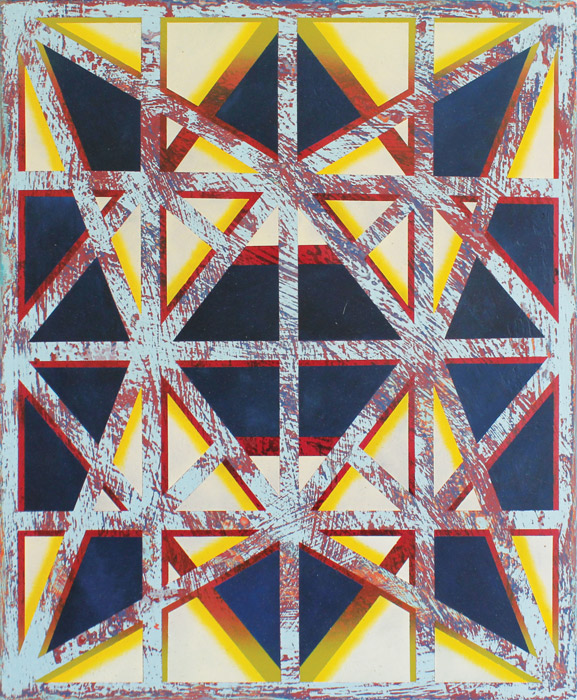 Window 6, 2015
Oil, acrylic and enamel paint on MDF board with powder coated steel frames
63cm x 51cm x 2.5cm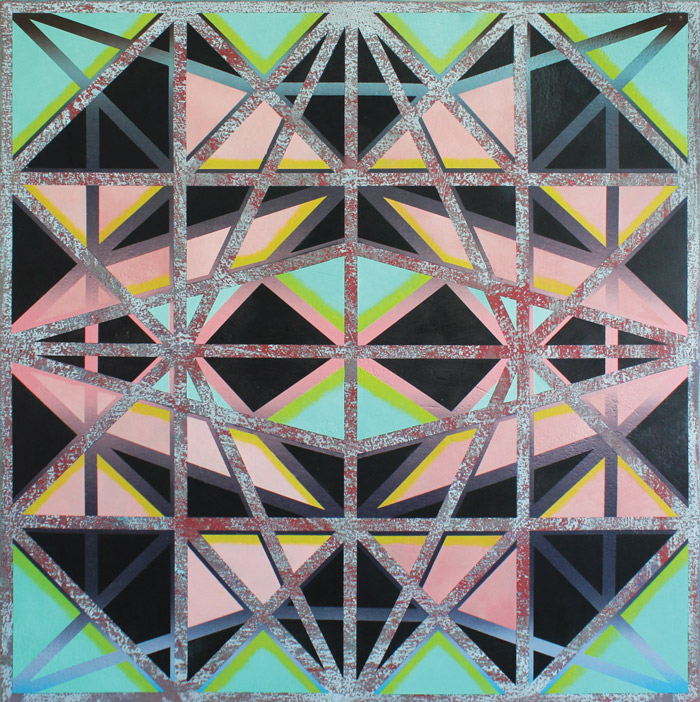 Grill Works 5, 2015
Oil and enamel on wooden board with powder coated steel frames
91.5cm x 91.5cm x 5cm