Lostgens contemporary art space was founded in 2004 by artist and curator Yeoh Lian Heng, with a main focus on showcasing international and local visual arts, performances, video and film screenings. The gallery held various community art projects across Melaka and Petaling Street. Notthatbalai art festival was organized by Yeoh in 2005 and 2007 as a platform to exhibit a diversity of forms and experimentation in visual arts and performances. Participants included artists and curators from Singapore, Spain and the United States of America, who organized performances and workshops at various sites in Kuala Lumpur.
 
In collaboration with architecture students from various colleges, Lostgens has set out to archive and measure old buildings sites that are, being subjected to time, in a state of ruins. This ongoing project aims to retain the consciousness, living conditions and memories of former days, simultaneously to preserve the legacy and knowledge of 20th century architecture. These documentations and studies will be presented and exhibited by Lostgens in the future.
 
The mapping, archiving and recording oral histories of various century old buildings in Petaling Street is a project based on an understanding of a rootedness and commitment to a place. It is a project in search of lost time and reactivation of historical memory. Some of the places documented have already been eradicated and most have been converted into parking lots. Items such as old window frame structures have been salvaged, which records the methods of its stylistic construction. Few observations of the project have revealed interesting internal structures with distinct features, such as a bridge that was built inside the interior of a shop house. Networks of relations in society and layers of memories are retained beneath the façade. These buildings in their state of perpetual perishing act as a form of resistance to the homogenization of commodity flows and "market based logic of place construction."
 


  Photo courtesy of Lostgens
---
Artist Talk: Angelika Boeck , A Portrait as Dialogue
28 March 2015
Lostgens Contemporary Arts Space
8C, Jalan Panggong, Kuala Lumpur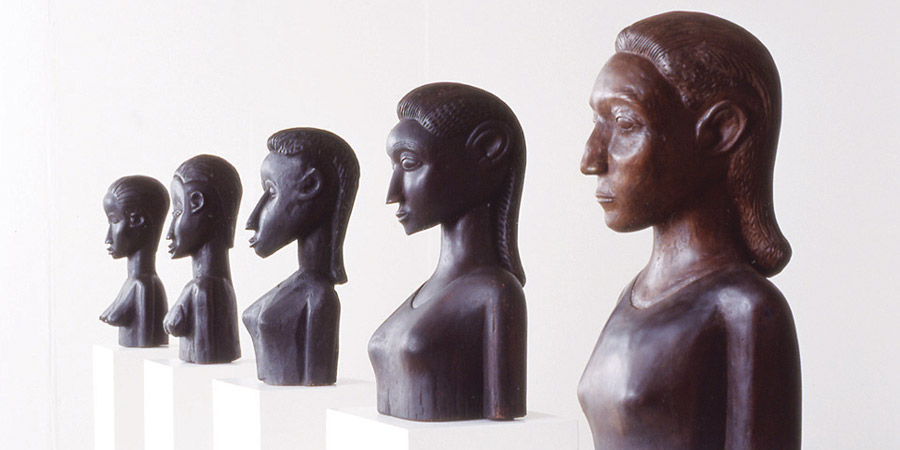 ANGELIKA BOECK, Chinese Whispers, 1999
Through partnership with Goethe Institute Malaysia, artists from Germany are invited to present artist talks and workshops. In a recent March artist talk, Lostgens presented the work of Angelika Boeck based on her research project, Portrait as Dialogue, which explores unconventional ways of creating a portrait. The project is an extensive archival of forms of human representation. Boeck's installations are poignant statements regarding the phenomena of human perception, explored through a variety of mediums which includes photography, film and sculpture. The artist explores how an individual could perceive different cultural practices, notion of self and others through journeys across countries such as Africa, Malaysia, Mongolia and Norway.
 
Chinese Whispers (1999) , one of the most surprising works from this series is a presentation of 5 portrait busts of the artist, based on the principles of whispers. "The installation consists of a series of five wooden portrait sculptures and of five printed on fabric portrait photos that are placed with each other - to show the sculptor responsible for them: Dramane Kolo-Zie Coulibaly (Boundiali) Amadou Coulibaly (Mandine), Dosso N'Gouamué (Biamkouma ) Gboungué Louna Pascal (Kabakouma) Bidije Goure (Abidjan)." Boecke commissioned local artisans from the village of the Republic of Côte d'Ivoire to carve the first bust of her, according to western ideals of likeness. The first bust was photographed to be shown to another carver to make a second copy, and the third was based on the second copy and the process repeats until the completion of the fifth bust. Only the first sculptor knew how Boecke looked like, while the other sculptors worked only from photos of the previous sculpture. The result of the fifth bust is that the features of Boecke have become completely Negroid, with the jaw becoming increasingly prominent and lips thicker. Her hair has become progressively shorter and bust more defined. This experiment shows how the local artisans subconsciously carve and integrate their ideal image of beauty into their sculpture. The carvers who act as the portrayers can be reversed and viewed as the portrayed subject.
 
Other works include Smell Me, which shows the tradition of Mongolians who acquire information about their guests by smelling them when they arrive at their tents. The result of the herders that smelled Boecke is expressed in the following lines, "I do not smell anything, but it feels as if I were touching a nestling or baby animal", "you still have karma. You are deep under ground, between a gap and a cave. You have to climb very high, but there is no other way out - if I were to compare you with a flower, you are a small white flower with pointy petals "or" Although you seem to be perfect this is not what you feel about yourself. Maybe clever people never believe themselves complete." These texts were inscribed on the surface of 11 glass snuff bottles.
 
Boecke's works are conceived mainly through interactions and dialogues with different cultures, which allow her to comprehend the material social practices, and representations of different societies. She does not present a portrait of a person in a literal manner based on academic traditions and conventions. From studying the particular cultural norms and beliefs of various communities, she has been able to show in a universal manner how people in different societies express their sense of place and belonging, which lead to the understanding of themselves, and the formation of their respective identities.
 
Angelika Boeck was born in Munich, Germany in 1967. Boeck studied interior design and sculpture at the Academy of Fine Arts in Munich. Her work has been widely exhibited in solo and group exhibitions in Germany, Switzerland, England, Estonia, Yemen and the Palestinian territories. Boeck was artist in residency at Lostgens in 2009.
 
Reference:
1) David Harvey, Cosmopolitanism and the Geographies of Freedom, Columbia University Press New York, 2009, 188.
2) Courtesy of Angelika Boeck's website : http://translate.google.com/translate?hl=en&sl=de&u=http://www.angelika-boeck.de/&prev=search
3) Courtesy of Galerie Peter Herrmann: http://galerie-herrmann.com/arts/boeck/Stillepost_engl..htm