'M_king Sp_c_ – We Are Where We Aren't' is an exhibition featuring works by contemporary artists Zedeck Siew, Sharon Chin, Maung Day, Saiful Razman, Ilham Fadhli (Kojek), Okui Lala, KONTAK!, Jeffrey Lim, Goh Lee Kwang, Engku Iman and Daniel Chong - displayed in and around an unconventional space called Sekeping Sin Chew Kee - a 1920s residential building which has been transformed into a guest house by architect Ng Sek San.
 
Curated by Ong Jo-Lene, the exhibition was developed after she participated in the 8th Berlin Biennale Young Curators Workshop and as a response to an open show by Run & Learn: New Curatorial Constellations, a Japan Foundation cultural programme for young curators from Southeast Asia.
In the context of her curatorial approach, Jo-Lene raises concerns over privatised spaces, the idea of acquiring privacy within public and private spaces and how our surroundings influence our actions and behaviours. Aimed to "reflect on our increasingly privatised urban condition", each work in this show "intercepts a different aspect of space to disrupt our dichotomies of private and public, leading to questions about privatising space as a means to freedom".
 
The selected venue itself challenges the viewer to perceive and experience art beyond the comfort of a typical gallery. Occupying the upper floors of Sekeping Sin Chew Kee, the viewer is exposed to not just artworks but also the original fittings and furniture of the guest house. The boundaries of dichotomies are significantly blurred in this circumstance thus promoting heightened social and physical consciousness – applying crucial sensibilities in the reality of everyday life within the confinement or liberation of art viewing.
 
Such notion is exemplified through a collaborative installation piece by Saiful Razman and Ilham Fadhli (Kojek) titled In the Name of Comfort which greets guests at the entrance of the space - featuring a set of 9 vermillion plastic chairs that have each endured a unique subtraction to their form - lined up facing the space's existing wire-mesh and cushion sofa set. The viewer is encouraged to sit on the altered chairs to experience a sense of uneasiness while facing others seated comfortably across. This example of physical intervention forces the viewer to adapt to inequalities or equalities of an urban setting.
 
Interactive art is represented by KONTAK! - a collective consisting of over twenty participants in a project called Peetilizer – a hybrid name of "pee" and "fertiliser" designed for a closed system from human waste (urine) to human consumption (plants). It is intended as an experiment to test the limits of "the forms of public intervention artworks where a functioning prototype of the public urinal partially enclosed in a vertical garden was installed along the back lane of Sekeping Sin Chew Kee. The installation brings the act of urinating into the public sphere, similar to that of the act of eating. The work challenges conventions in what are private acts and propriety in public artworks".
 
Engku Iman - the youngest artist in this show – presents satirical local cultural ironies, paradoxes and colloquialisms in a variety of medium: carbon transfer illustrations on paper; love letters; and mixed media rug. Titled Aku Keturunanmu Perempuan (I Am Your Female Descent), the installation is a 3-part self-portrait consisting of a set of illustrations hand drawn by the artist and then carbon traced onto paper; a set of love letters the artist received in her teenage years; and a rug patterned with used body-hair wax strips. "They form a mosaic that reveals tensions in her identity as a young Malay woman in Malaysia. Her conception of a self-image is a nebulous intersection of private thoughts and public actions, repercussions and conformity, and independence and belonging".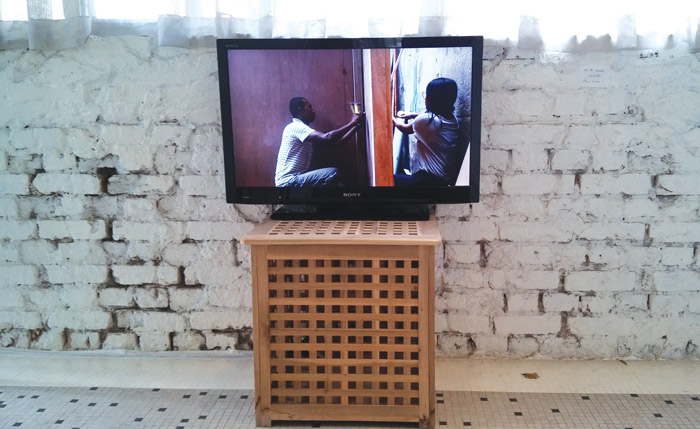 Photo courtesy of runandlearn.net
 
Video artist Chew Win Chen a.k.a. Okui Lala has been exploring the hidden narratives of migrant workers in Malaysia through her As If, ______ series. "For this exhibition, she began by exploring the myth that we are the first inhabitants of our newly built and purchased houses, having observed migrant construction workers leaving graffiti like marks in the houses they build where they also eat, sleep, urinate and defecate in during the final stages of construction. As If, Home is a work that straddles video and performance in which skilled construction worker from Bangladesh, Mostofa Kamal guides Okui in building a model house together. Here both are engaged in a dance as people, neither will own the "house", both leaving with a shared memory, process, and thoughts on home. Gleaning into the social relationships behind our economic relationships".
 
Daniel Chong has a conceptually driven practice often examining acts of categorisation and information design. The Limits of My Imagination when read aloud has either the artist or the viewer as the first person. "It is an installation of a roomful of four-quadrant matrices written with pen on the easily discarded tissue papers. Some have a matrix relationship, some are sequential, some are just related words, and some are not entirely logical. They are a simple tool, a visualisation, an ideas generator - the four-quadrants bearing the sign of a cross, not of religion but perhaps of human endeavour".
 
Other works include Local Fauna a series of short stories by Zedeck Siew presented in English and Bahasa Malaysia, with Burmese translation by Maung Day accompanied by linocut illustrations by Sharon Chin. Posters of these stories and their illustrations are displayed in public spaces around downtown Kuala Lumpur to bring art and storytelling out of the gallery and onto the streets. Door Left, Door Right by Jeffrey Lim is a laboriously produced image that was manually photographed, printed, and tinted onto oxidised zinc measuring 100cm x 197.5cm. "The piece is installed on the back door of Sekeping Sin Chew Kee, making it one of the works that has to be viewed from the back lane. The image printed is situational. Jeffrey's intention was to reflect the reverse view when a viewer faces the door back to the viewer. It is a projection of what we turn our backs on as we enter a doorway or boundary. Interestingly the image is of another door, thus inspiring the title of the piece. The element of time is elucidated in this work through the zinc that was artificially corroded and the image printed on it that is quickly facing under the elements; is a door fading away or a portal opening up?"
 
Experiencing 'M_kng Sp_c_. We Are Where We Aren't' allows the viewer to be at ease while confronting thought-provoking artworks and simultaneously having a sense of discomfort in a space that can be used as a dwelling and/or an art gallery - private and public – in this instance the space is a guesthouse used as an art space. It brings back the question of ownership in reference to the curator's statement: "Space is a means of production, an object of consumption, and a political instrument. Our spaces are the structures shaping our actions and at the same time our actions shape our spaces. With the proportion of urban population continually increasing globally and locally, what do we want to make space for?"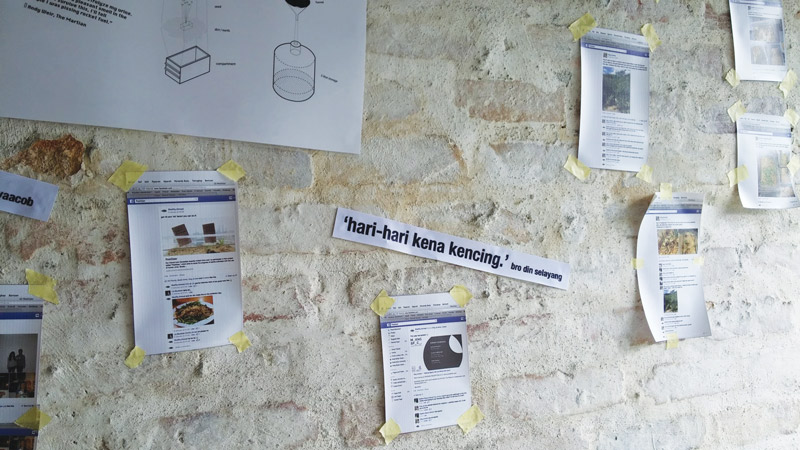 Photo courtesy of runandlearn.net



Photo courtesy of runandlearn.net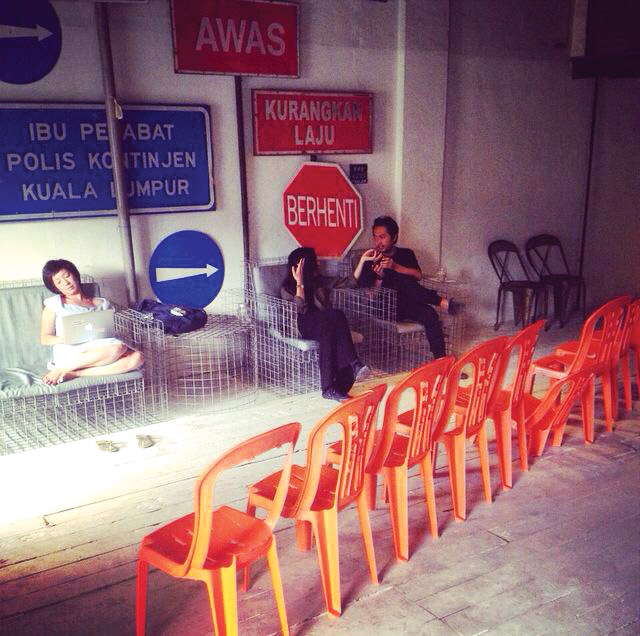 Photo courtesy of runandlearn.net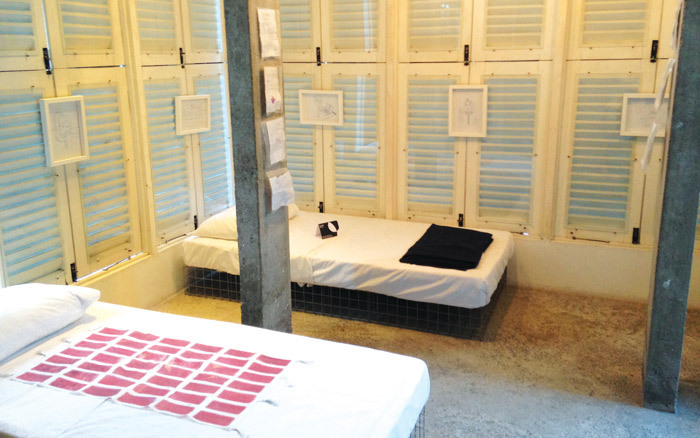 Photo courtesy of runandlearn.net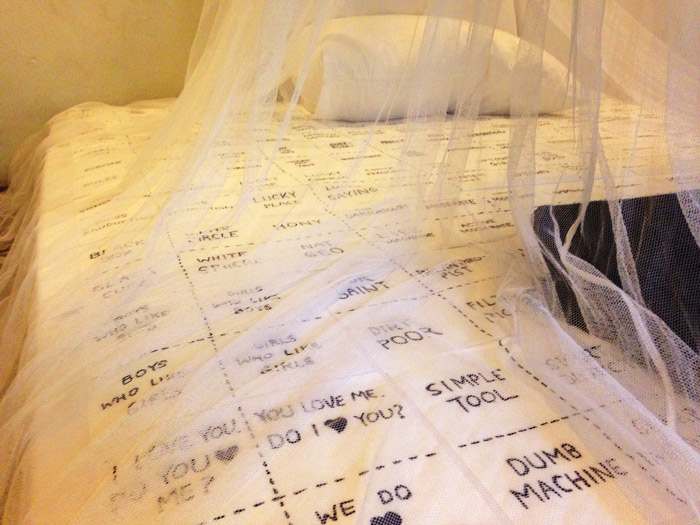 Photo courtesy of runandlearn.net

REFERENCES
http://runandlearn.net/my/makingspace/